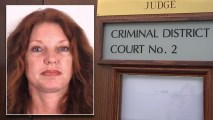 The mother of a teenager who used an "affluenza" defense after killing four people in a drunken-driving crash will remain free on bond while awaiting trial on a money laundering charge.
Photo Credit: Tarrant County Sheriff's Office / NBC 5 News
This story uses functionality that may not work in our app. Click here to open the story in your web browser.
[source: http://www.nbcdfw.com/news/local/Tonya-Couch-to-Appear-in-Court-Monday-for-Money-Laundering-403376446.html]