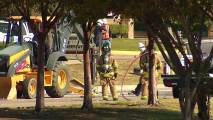 Plano residents forced to evacuate 79 homes on Thanksgiving Day due to a natural gas leak Thursday morning have been allowed to return home, city officials say.
Photo Credit: NBC 5 News
This story uses functionality that may not work in our app. Click here to open the story in your web browser.
[source: http://www.nbcdfw.com/news/local/Gas-Leak-Forces-Evacuations-in-Plano-402879966.html]