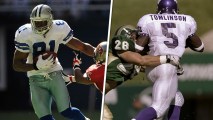 A former Dallas Cowboys wide receiver and a TCU alum are among the 15 finalists for the 2017 class of the Pro Football Hall of Fame.
Photo Credit: Getty Images
This story uses functionality that may not work in our app. Click here to open the story in your web browser.
[source: http://www.nbcdfw.com/news/local/LaDainian-Tomlinson-Terrell-Owens-Among-NFL-Hall-of-Fame-Finalists-409625285.html]