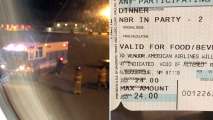 An American Airlines flight from Dallas/Fort Worth International Airport to Las Vegas was forced to land in New Mexico after an engine suffered a "mechanical issue" in flight, officials said.
Photo Credit: @Herbie
This story uses functionality that may not work in our app. Click here to open the story in your web browser.
[source: http://www.nbcdfw.com/news/local/American-Flight-Lands-Safely-After-Engine-Issue-403380786.html]